"My Efforts are focused on conveying the visual impressions a scene leaves on me, as directly and as honestly as I can. What really drives me to keep painting is my personal goal of striking the perfect balance between realism and impressionism".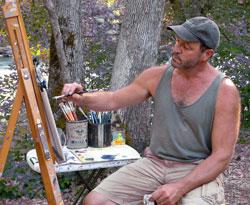 Rob Blackaby is a multi-disciplinary fine artist, with a professional background in commercial and fine art that spans back as far as 1978.
After studying commercial art and graphic design at the Colorado Institute of Art, he was employed as an illustrator and graphic designer at Lockheed/Martin Aerospace.
He returned to Washington State in 1988 to work for himself as a full-time fine artist, exhibiting in various Pacific Northwest galleries. His involvement in the Lake Chelan murals program resulted in eleven murals in Chelan. Rob has taught private painting lessons and group workshops, both for watercolor and for oils. His paintings have won many awards, and are in corporate and private collections across the United States.