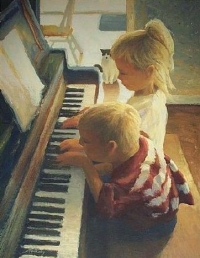 Artwork by Rob Blackaby —your choice of subject matter!
We all have a subject that we would like to have honored and displayed in a fitting manner. Commissioned fine art can provide you with that special treatment of your favorite place or loved one. If you can provide several reference photos, I can create an original painting for you at a very reasonable cost, with your satisfaction being my priority.
Please call or e-mail to discuss the project you wish to pursue. I can give you a final price after hearing the details and seeing the reference photos you want to work with. Send them to me, and I will tell you if I can work from them. You can decide what is important to keep and or omit from the scene if you wish. Once we get this "sorting out" phase done, I will ask for a 50% deposit, and put your project on my commission work schedule.
You are not limited to the sizes shown here, and they are only intended to give you a ballpark price example for the size range you are considering. You can choose your own size/format.
Approximate Pricing Examples
I can not offer to do the framing end of a commission project - the framing is left up to you, so that you can match it up to your own style and decor preferences.
12 x 16 - 175.00
16 x 20 - 225.00
20 x 24 - 350.00
22 x 28 - 525.00
24 x 30 - 630.00
30 x 36 - 795.00
The sizes listed here refer to the frame size, not the image size. Normally I plan for and provide an off-white, hardboard mat, which means that the painted image ends up about 25% smaller than the frame size - if you prefer an unmatted treatment, the image would then be the same as the frame size, and the price would be about 20% higher than these examples (please use this link to see an illustration)
For sizes up to around 30 x36, I paint on 1/4" hardboard, and you can choose the option to set those up for an unmatted treatment.
Anything larger will be painted on stretched canvas in order to keep the weight down. My canvasses end up painted around the edges - "Gallery Wrap" style. This allows you to dislplay the work unframed if you decide you prefer to leave it that way.
If you wish to have me set the painting up for a matted treatment, I provide a hardboard mat that is painted with an off-white interior latex. This means that if you would prefer a colored mat, you can always paint it with your choice of color prior to framing the painting.
I work with top quality archival materials, and my paintings are finished with two coats of a UV filtering matte varnish. This is for protection against sunlight exposure, and it allows you to clean the painting. You can vacuum the painting with a brush attachment, and if need be you can wipe it down with a wrag and warm water.
As an average, you should plan on your project taking three months to complete, since I usually cannot start on it right away (a few weeks of drying time are also required).
I will contact you when the painting is finished and request the balance for the project, so please provide me with an e-mail, a shipping address and a phone#. I will let you know when it has shipped so that you can be watching for it to arrive.