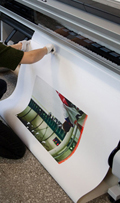 Giclee (zhee-klay) is French for 'to spray' –Giclee Prints are an elevation in printmaking technology, delivering maximum color accuracy and exceptional resolution. Archival quality inks are applied to acid-free substrates including canvas, fine art papers and photo papers to create collector-quality images. The standard for museums and galleries around the world, Giclee is a printing process where millions of ink droplets are sprayed onto the paper\'s surface. This provides a greater degree of detail and color gradients, and much better results than traditional printing techniques.
The Process: Giclee Prints are typically created using professional caliber 8- to 12-color inkjet printers. These modern, high-technology printers are capable of producing incredibly detailed prints for both the fine art and photography markets.
You can order online here, or visit Black Dog Frame Shop in downtown Chelan, WA.